FAIRMODE | Forum for air quality modelling in Europe

Technical Meeting

27-29 June 2016, Zagreb


Organized by Meteorological and Hydrological Service
and European Commission Joint Research Centre
with support of Ministry of Environment and Nature Protection and Croatian Chamber of Economy
Registration
Please fill out the form below to register for the FAIRMODE technical meeting.
Registration form FTM Zagreb 2016
Please return the form to: fairmode(at)cirus.dhz.hr
We kindly ask you to register before June 15th.

Agenda - Fairmode technical meeting

Excursion and social event (28 June): mkn.mhz.hr, www.klet-kozjak.hr
Venue – meeting place
Hrvatska gospodarska komora/Croatian Chamber of Economy
Rooseveltov trg 2, Zagreb /Roosevelt's sq. 2, Zagreb
How to get there
Flying to Zagreb
If you're arriving by plane, the best way to reach Zagreb is by Airport transport that will take you from the airport to the Main Bus Station (ticket: 30 kuna (kn) ≈ 4 €; see map below) or by taxi service (≈ 27-30 €).
Daily departures from Zagreb Airport towards the Main Bus Station in Zagreb is every 30 minutes (from 7:00)
Departures are scheduled daily from the Main Bus Station in Zagreb towards Zagreb Airport from. 5.00 untik 20:00, every 30 minutes
For all departures before 6 a.m. and after 8 p.m. please look for information on +385-1-6331-982, e-mail: plesoprijevoz(at)plesoprijevoz.hr or at www.plesoprijevoz.hr
Where to stay
There are many hotels in Zagreb that can be found at convenient prices. Here is the list of some of them. Meteorological and Hydrological Service has an arrangement with Hotel Dubrovnik (Gajeva 1., Main Square) for a number of rooms during the meeting days at 80-90 €.
Room guarantee will be kept until 1st June. Please make your room reservations directly with the hotel.
Hotels:
Hotel Dubrovnik - Zagreb, Gajeva 1
reservations(at)hotel-dubrovnik.hr
www.hotel-dubrovnik.hr
Tel: +385 1 48 63 555
Panorama Zagreb Hotel, Trg Krešimira Ćosića 9
fourpointsres.zagreb(at)fourpoints.com
www.panorama-zagreb.com
Tel: +385 1 36 58 333
Hotel Laguna, Kranjčevićeva 29
info(at)hotel-laguna.hr
www.hotel-laguna.hr
Tel: +385 1 30 47 000
Hotel Jägerhorn, Ilica 14
info@hotel-jagerhorn.hr
www.hotel-jagerhorn.hr
Tel: + 385 1 48 33 877
Hotel Jadran, Vlaška 50
jadran@hup-zagreb.hr
www.hup-zagreb.hr
Tel: +385 1 45 53 777
Best Western Premier Hotel Astoria, Petrinjska 71
sales@hotelastoria.hr
www.bestwestern.com
Tel: +385 1 48 08 900
Hotel International, Miramarska 24
hotel@hotel-international.hr
www.hotel-international.hr
Tel: +385 1 61 08 800
Hotel Central, Kneza Branimira 3
info@hotel-central.hr
www.hotel-central.hr
Tel: +385 1 48 41 122
Hotel Arcotel Allegra, Branimirova 29
allegra@arcotelhotels.com
www.arcotelhotels.com
Tel: +385 1 46 96 000
Sheraton Zagreb, Kneza Borne 2
sheratonres.zagreb@sheraton.com
www.sheraton.com/zagreb
Tel: +385 1 45 53 535
If you would like to stay in one of pitoresque hostels, you can find it here: www.hostelworld.com
Contact us
For any questions or suggestions, please contact:
Local Organizing Committee
Interesting things to see in Zagreb - Zagreb tour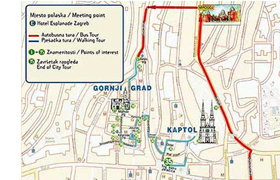 More information about Zagreb can be found at: